Design a compelling strategy for any business
The Strategy Explorer is a canvas-based method for strategy development. It allows you to create strategies for a wide range of subjects on a single page – quickly and intuitively, alone or in a team, for business and beyond.
Whether you wish to address a business-related topic with strategic dimensions, intend to gain clarity about the most promising way into the future, or just strive to revitalize your strategy work: The Strategy Explorer could be your weapon of choice. It helps you to work on the relevant strategic questions in a focused and structured way and quickly produce solid results.
The Strategy Explorer will help you to create a strategy and formulate it crisply and to the point. This way, you can generate clarity and orientation – for yourself, your team and your stakeholders.
Benefits of the Strategy Explorer:
Visual: You develop a complete strategic picture with transparent and visible logical chains from observations to conclusions.
Structured: The process is intuitive and provides a straightforward workflow for your workshop.
Interactive: Various perspectives are considered directly by a diverse team.
Focused: The strategy is developed with the goal always present to guide the thinking.
Fast: A prototype version of your strategy can be generated quickly, in only a few hours when working alone or in a single workshop day with your team.
"It is the great merit of the comprehensibly written and vividly illustrated book to significantly simplify the reader's apprehension of the complex subject of strategy. The reader receives concrete guidance to develop their own roadmap for the future."
Stephan Lamprecht, management-journal, 23.10.2019
Download
Download the Strategy Explorer here for your own strategy work. Either print it out directly or let a service provider produce large scale printouts, for example in a copy shop. The B0 format is ideal for working in a team, A4 or A3 printouts are suitable for individual work.
Terms of use according to Creative Commons license CC BY-NC-ND:
Sharing: You are free to share, i.e., copy and redistribute the Strategy Explorer.
Attribution: You have to give appropriate credit to the author (Dr. Stefan Pastuszka) – however without suggesting the licensor endorses you or your use – and provide a link to the license.
NoDerivatives: If you remix, transform, or build upon the material, you may not distribute the modified material.
NonCommercial: Commercial use is not permitted without a separate license agreement. Please contact me if you are interested!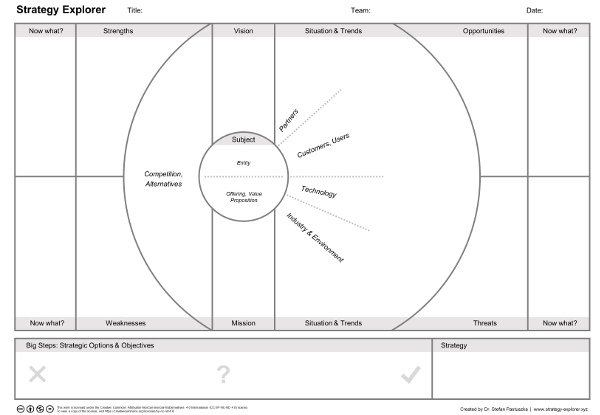 Tips for printing the canvas in poster format can be found in this blog post.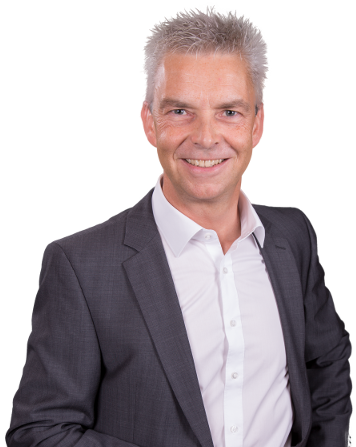 The Author
Stefan Pastuszka holds a Ph.D. in physics and is an expert for strategy development, innovation and the communication of complex subjects. He helps organizations to tackle their challenges with clarity and structure, thus enabling better positioning, clear communication and the development of the right steps for a successful future. His clients range from founders and start-ups to large corporations.
Stefan is convinced that everybody and every organization needs a strategy for something and believes in the power of co-creation. In his first book ("30 Minuten Strategie selber machen", GABAL 2017), he showed how to develop strategies in a co-creative, structured and pragmatic way – with lots of practical tips. With the Strategy Explorer, he took the idea of team-centric and agile strategy development to the next level and provides an effective tool for a broad range of applications in strategy development.
Find out more about Stefan Pastuszka and his work as a Strategy & Innovation Consultant here or on his homepage.