Online training: Quick, focused and agile strategy development
What do we want to achieve, how will we be successful, and why are we doing it all in the first place? Especially in volatile and uncertain times, it is important to provide orientation: for yourself, for your employees and for all other relevant stakeholders. But how can you effectively achieve clarity about the big goal and the most promising way to get there, while also involving the team? The Strategy Explorer Master Class shows how it works and prepares you perfectly:
Learn how to design the right strategy for every business on a single page with the Strategy Explorer. Expand your strategic toolbox and learn how to create a consistent strategic overall picture in an intuitive, interactive and lean way.
In the interactive online course, you will sharpen your strategic thinking and get to know important concepts of strategy development. In particular, you learn to apply the Strategy Explorer method confidently in workshop situations with your own team.
Professional tips and inspiration for your strategy work
In the course, you will concentrate on a strategic challenge of your own choice and learn the method first-hand under the expert guidance of author and Strategy Explorer inventor Dr. Stefan Pastuszka. Let yourself be inspired by new perspectives and valuable feedback while benefitting from numerous practical tips as well as individual strategy coaching. This way, you will increase your strategic fitness and go into the next strategy workshop well prepared and confidently.
Learning Objectives of the Master Class
Train and sharpen your strategic thinking
Get to know important concepts of strategy development
Apply the Strategy Explorer method proficiently
Reflect about your own strategy topic and receive feedback
Gain confidence for workshops with your own team
Benefit from individual Strategy Coaching (optional)
Network and be inspired
The perfect training for…
Executives who want to develop clear strategies with their teams
Division and business unit managers
Department heads
Project managers
Startuppers
Internal functions that support teams in solving strategic issues
Agile coaches
HR, organizational developers
Strategy departments, Corporate development
Participant feedback
The participants of past Master Classes have been enthusiastic about the course and report that it was highly beneficial for both themselves and their organizations. The graphic shows the evaluation of their feedback regarding the achievement of the learning goals.
The recommendation rate is 95%
After more than 40 years of work, I have finally learned a well and clearly structured way to develop a strategy in a short time.
Stefan has brought the myth of "strategy" to a tangible, understandable and comprehensible level.
The master class broadened my strategic horizon.
The master class is very well structured.
Stefan's master class is highly recommended and, in my opinion, a required addition to his book.
The essentials are brought to the point in understandable language.
The master class is very well conceived and a great success. I found the diverse opportunities to reflect on the method and implementation particularly valuable.
Alles baut aufeinander auf und führt zu neuen Erkenntnissen, die man ohne dieses strukturierte Erarbeiten kaum erhält.
Very practice-oriented and does not remain on a theoretical level.
Anyone who likes to use the Strategy Explorer should definitely attend the Master Class.
I was able to clearly define my vision, mission and purpose statement.
A very pleasant, constructive experience that really gets you ahead.
Didactically well prepared and presented, with valuable insights for my own project.
By attending the master class, I gained a high level of confidence in using the Strategy Explorer method and achieved great results in a relatively short time.
Stefan is extremely competent and passionate about strategy, which has a very positive effect on the learning atmosphere.
Thanks to the many practical examples and the exchange between the participants, you gain a very good understanding of the method and its application.
I can recommend the Master Class to anyone who wants to delve deeper into the questions "Where and what do we stand for?" and "Where are we going with this?"
Stefan gets straight to the point with the Strategy Explorer! His pragmatic approach and great expertise are an added value.
Stefan's practical tips on the crucial points in terms of content and on successful moderation are priceless.
I would recommend this course to anyone who wants to learn about strategy.
For me, Stefan is a dream expert and moderator, completely free of arrogance, always on an equal footing with the workshop participants.
Taking two steps back to see the big picture supports your strategic direction. A very promising method.
Interesting participants and lively discussions – great!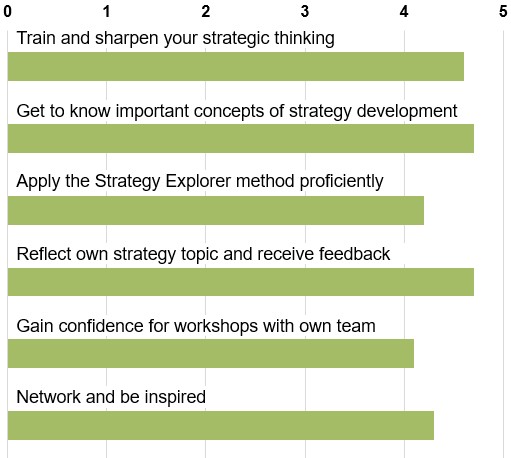 Course content
Strategy today: Providing orientation in the VUCA world
The Strategy Explorer method: Background, theory, examples and lots of practical tips
Application fields, benefits and limitations
Subject: Clean definition, value proposition
Vision & Mission: Big goals, purpose, examples, checklists
Environment analysis: Micro and macro environment, assessment of situation and trends
SWOT analysis: Observations, conclusions, logical chains
Strategic options: Definition, identification, assessment
Strategy formulation
Workshop design in face-to-face and online formats; co-creation with digital whiteboards
Next Steps (Outlook): Strategy communication and execution, e.g., using OKR
Training package
Strategy Explorer Master Class:
Interactive online workshop with Dr. Stefan Pastuszka via Zoom: 6 sessions of 3 hours each, see graphic for details
Compact course duration of ca. three weeks
Small group of max. 6 participants (minimum number of participants: 2)
Peer reflection in teams of 2: approx. 1-1.5 hours per week
Personal 1:1 strategy coaching with Stefan Pastuszka at a special rate in a bundle (2 hours, online, optional)
Language of the International Edition: English
Your investment:
EUR 2,100 net per person plus VAT without strategy coaching
EUR 2,500 net per person plus VAT including strategy coaching
A discount of 10% on the participation fee will be granted for the second and each subsequent booking of the Online Master Class by participants from the same company.
An open international edition of the Strategy Explorer Master Class is not yet planned for 2023.
Please contact us at info@pastuszka.de if you are interested in an inhouse edition or an open variant of the Master Class!
Technical requirements:
Zoom is used as the video communication tool for the Master Class. Therefore, a video-enabled device (ideally a laptop or desktop PC with a camera) and a stable broadband internet connection are required to join.
Conceptboard is used as a digital collaborative whiteboard for co-creation in the course sessions (alternatively, Miro or Mural can be used if all participants agree). It works via web browser, ideally Google Chrome or Firefox. Please make sure that the access to the digital whiteboard is not blocked from the company network if you intend to use it from your company account. Participants are free to use any other collaborative whiteboard for their own individual work throughout the course.
Registration
Please register for the Master Class by sending an email to info@pastuszka.de with the content described below. If you have any questions in advance, please feel free to contact us at the same email address or by telephone.
The following information is required for registration:
Declaration of intention to book (e.g. "I hereby register for the Master Class in …")
Desired variant: with or without personal strategy coaching?
Name of the participant
Complete company address and billing address with telephone number and e-mail address
The registration is binding and will be considered in the order in which it is received. After registration and verification by the organizer, the participant will receive a written booking confirmation (by email), provided that a free place is available and the participant is admitted to the event. If this is not the case, the participant will be informed. The booking becomes binding for both parties with the booking confirmation, thus concluding the contract.
For more information on participation, payment, cancellation policy, etc., please refer to the Strategy Explorer Online Master Class Terms and Conditions. With your registration you confirm these general terms and conditions.